A sweet and crispy roti that reminds me of my childhood. I love these rotis made by my mother. My mommy used to prepare on festivals and pujas.  These are good option for our kids also during summer breaks. Kids will love these sweet rotis.
Serving: makes 10 rotis
Ingredients:
Atta or plain flour: 1 cup
Jaggery or gur: 1/4 cup( you can also use sugar if you want)
Water: 1/2 cup
Saunf or fennel seeds: 1 tbsp
Oil: for frying+ 2 tbsp for dough
Salt: 1 tsp
Method:
1. Heat water in a pan. Add gur or sugar and cook on low heat till gur melts.
2. Make a dough by adding melted gur mix, saunf, salt in atta or plain flour. Knead a stiff and firm dough.
3. Divide the dough in equal portions and with rolling pin roll a thick chapati.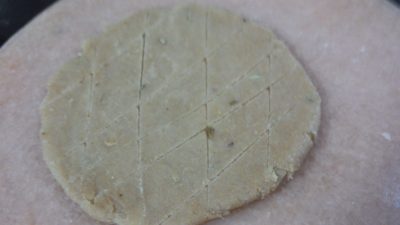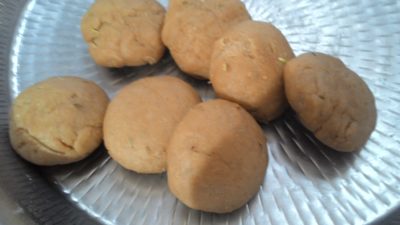 4. Heat a tawa. Place chapati over it and spread ghee or oil over it. OR
We can also deep fry these small rotis in oil.
5. Cook from both sides till golden brown and crispy from both sides.
6. Store in air tight container and enjoy these sweet rotis.


Like Delicious.Desi on Facebook.