Mango is the king of all fruits. We can make many dishes from mango. Mango kalakand is one such recipe from mango.  I am presenting to you a quick recipe of making mango kalakand. It is delicious sweet with flavors of mango. I am adding milkmaid or condensed milk in it.
Serving: 4
Ingredients:
Mango pulp : 2 mangoes (ripe)
Milkmaid: 1/2 tin
Milk: 1 kg
Lemon: 2tbsp
Pistachios or pista : 5-6 chopped
Almonds: 7-8
Green cardamom: 3-4 crushed
Method:
1. Take milk in a vessel and bring it to boil. Let it cool a bit.
2. To make paneer add lemon juice in it. When it curdles completely put it in cotton cloth. Stir the water and wrap the ends of cloth containing paneer. Collect paneer in a plate.
3. Now heat a pan and add mango pulp in it. When mango pulp becomes thick add condensed milk or milkmaid and cook for two more minutes.
4. Add paneer, mix and cook till mixture starts leaving sides of pan and becomes thick. Add cardamom powder and half of almonds and pistachios. Cook on low to medium heat for 2 more minutes.
5. Grease a plate and spread kalakand mix evenly with 3/4 inch thickness on the plate . Spread remaining almonds and pistas.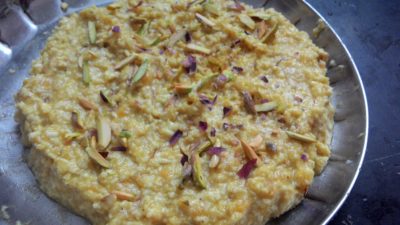 6. Keep it in fridge for 2 hrs. After that cut it in square shapes. Delicious mango kalakand is ready to eat.


Like Delicious.Desi on Facebook.