Kachori is famous snack in India. Usually maida is used as outer covering and moong dal is used as stuffing. I had seen on some cookery show that bread with potato are used as outer covering. So i tried to made these bread kachoris. The result came out very well and bread kachoris taste very nice.
Serving: 4
Ingredients:
For outer cover:
Bread slices: 4
Potatoes: 2-3 boiled and mashed
Salt: to taste
Red chili powder: 1/4 tsp
Garam masala: 1/4 tsp
Coriander powder: 1/2 tsp
Chopped coriander: 2 tbsp
For stuffing:
Dhuli moong dal: 1/4 cup
Salt: to taste
Red chili powder: 1/4 tsp
Fennel seeds or saunf: 1/2 tsp
Coriander seeds: 1 tsp( coarsely grounded)
Dry mango powder or amchur powder: 1 tsp
Garam masala: 1/4 tsp
Jeera powder: 1/4 tsp
Turmeric powder: 1/2 tsp
Oil: for deep frying
Method:
1. Dip bread slices in water, take out immediately and squeeze out water  and mash the bread.
2. Add mashed potatoes and all spices used in making outer covering. Mix and knead a dough for outer covering.
3. For stuffing, soak dal in water for atleast 2 hours. Coarsely grind dal in grinder.
4. Heat 2 tbsp oil in a kadai. Add coarsely grind coriander seeds, saunf. Saute.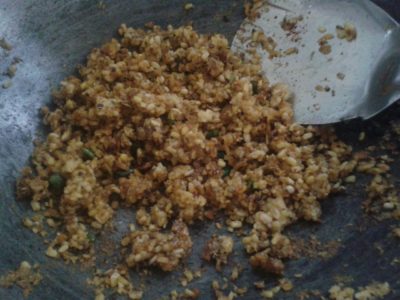 5. Add coarsely grind dal and cook on medium heat till dal turns golden brown in colour. Add all other spices and mix well.
6. Take dough and divide them in equal portions,  make balls from all portions. Then flatten each ball and fill stuffing in them and seal edges tightly with your hands.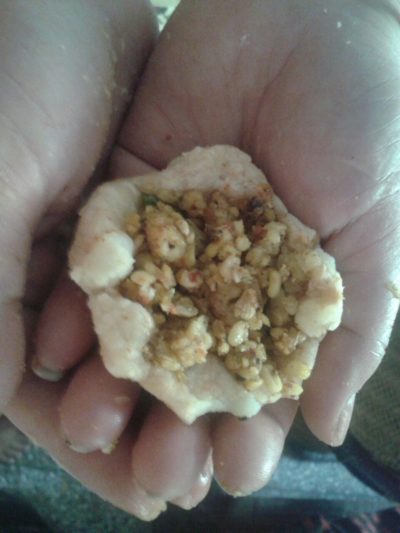 7. Heat sufficient oil in a kadai and deep fry kachoris till golden brown and crispy.
8.  Serve them with imli chutney or dhania pudina chutney.


Like Delicious.Desi on Facebook.