Noodles and egg pizza …an amazing and tasty combination which you all love. My husband wants eggs in different forms so this dish is especially for him.
Serving: 4
Ingredients:
Noodles: 150gm
Water: 2 cup
Salt: 2 tsp
Eggs: 3
Maida: 2 tbsp
Milk: 3-4 tbsp
Black pepper powder: 1/2 tsp
Onion: 1 chopped
Green capsicum: 1 chopped
Tomato: 1 chopped
Green chili: 1 chopped
Coriander: 2 tbsp chopped
Mozzarella cheese: 3-4 tbsp
Oil: 2 tbsp
Method:
1. Boil 5-6 cups of water in a pan adding 1 tsp salt and a little oil. Add noodles in it. Cook noodles till they become soft but don't overcook them .(Stir in between while cooking noodles).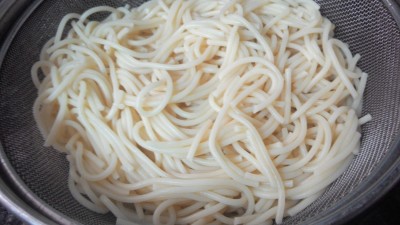 2. Drain the water in colander or sieve. Add cold water and once again drain the water. Keep noodles aside and add 1 tbsp oil so that noodles did not stick to each other.
3. In a mixing bowl put maida and milk and mix well. Add eggs to it and also add salt and black pepper.
4. Add all chopped vegetables and mix. Add noodles to it and mix.
5. Take a non stick tawa, put oil on it. Spread the mixture in form of roti over it. Cook it for 7-8 minutes.
6. Now Preheat the oven at 180 degree celsius.
7. Put the cooked pizza over it and spread grated mozzarella cheese over it.
8. Bake for 5-7 minutes and serve.


Like Delicious.Desi on Facebook.