Bathua or goosefoot leaves is found during winter months. It is a leafy vegetable like spinach and methi. It can be cooked in various forms as in form of vegetable or raitas or paratha. Bathua leaves are good source of iron, calcium. I am sharing recipe of parathas here. I love the green color of these parathas. They are a good option for breakfast as they are very healthy too. I am adding potato as stuffing as it will make them more tastier.
Servings: makes 4-5 parathas
Ingredients:
For dough
Bathua leaves: 100-150 gm
Wheat flour:  1 cup
Ajwain : 1/2 tsp
Salt: to taste
For stuffing:
Aloo or boiled potatoes: 2-3
Green chilli: 1 chopped
Chopped coriander: 2 tbsp
Salt: to taste
Red chili powder: 1/4 tsp
Garam masala: 1/4 tsp
Oil: for shallow frying parathas
Method:
For dough
1. Wash bathua leaves in sufficient water.
2. Boil bathua leaves for 4-5 minutes by adding 1/4 cup water .
3. When leaves gets cooled down put them in grinder and grind them to fine paste.
4. In a mixing bowl add wheat flour, salt, ajwain seeds and bathua paste.
5. Mix well and knead it to a smooth dough. Keep it aside. You can use little water if you want.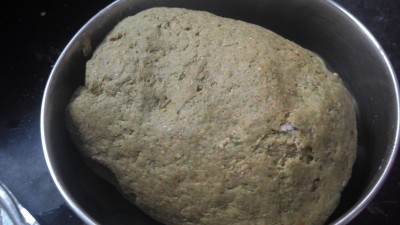 For stuffing:
6. Boil potatoes .Let them cool, peel them and mash them well.
7.Add coriander,chilies,ginger.Add all spices.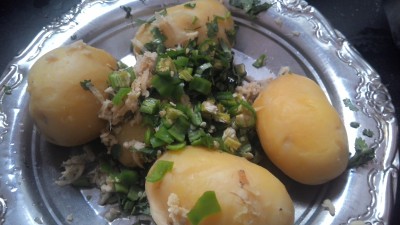 8.Mix it well.Divide the whole mixture into equal portions by giving them shape of ball.
9.Divide dough into equal portions and make smooth ball.
10.Roll the dough using rolling pin.Roll into 4 inch diameter.
11.Place potato stuffing in middle at wrap all sides.Again give shape of ball.
12.Dust some flour on roll and start rolling it .Roll into circle of diameter of 6 inch. Don't make them too thin.
13.Heat tawa and place rolled paratha on it.Flip it and cook other side as well.
10.Apply desi ghee on both sides and cook till both layers become golden brown.
11.Serve bathua parathas hot by placing butter over it.Have these delicious parathas with achaar curd.


Like Delicious.Desi on Facebook.