Gur- moongfali chikki is a traditional candy made especially during winters. Gur is good source of iron and peanut or moongfali are rich in proteins and vitamins. Chikki is easy to prepare and off course is very delicious too.
Serving: 8-10
Ingredients:
Peanuts : 500 gm
Gur or jaggery: 500gm
Ghee or oil: 2 tbsp
Method:
1. Roast peanuts in heavy bottom pan or kadai for 3-4 minutes. Let them cool and then remove their skin and break them in halves.
2. In a heavy bottom pan add 1 tbsp ghee and put gur in it. Stir continuously on medium flame. Cook for 5-6 minutes.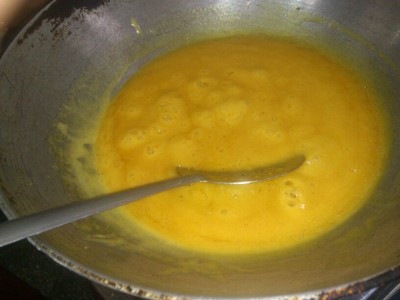 3.To check whether jaggery is cooked completely , take water in a bowl and put a drop of melted gur in it.  If jaggery drop turns in solid and sits at the bottom then it is cooked otherwise cook for some more time.
4. Grease your countertop with ghee.
5. Add peanut in melted gur. Switch off the flame and mix peanuts with gur.
6. Pour mixture over greased surface and  flatten the mixture using rolling pin or belan.
7. Let it cool for 15 minutes and break it to pieces. Store it in jar and enjoy winters with this chikki.


Like Delicious.Desi on Facebook.