Cheese corn toast is an ideal snack and a breakfast option also. This is an simple and easy toast recipe which your kids will love because of its cheesy flavor.
Ingredients:
Brown bread slice: 8
Corn kernels: 1 cup boiled
Cheese: 1 cup grated
Capsicum: 2 finely chopped
Onion: 1 chopped
Butter: 1 tbsp
Green chili: 1 chopped
Salt: to taste
Sesame seeds: 2 tbsp
Black pepper powder: 1/2 tsp
Dried mixed herbs: 1/2 tsp
Method:
1. Put chopped capsicum, corn kernels, chili, cheese, onion, salt, dried mixed herbs and black pepper in a  mixing bowl and mix well.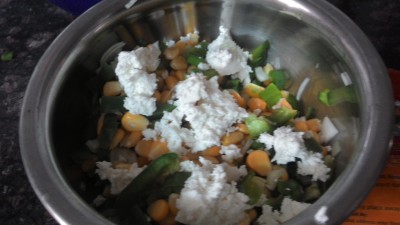 2. Lightly toast the bread slices on tawa by applying butter.
3. Preheat oven to 180 degree celsius. Spread stuffing over the bread slices and sprinkle some sesame seeds and cheese over it.
4. Toast the bread slices in oven for about 4-5 minutes till bread becomes crispy.
5. Serve with tomato ketchup and enjoy.


Like Delicious.Desi on Facebook.