A white spongy cheese ball that gives a sweet splash to you as soon as it melts down in your mouth. Yes we are talking about our very own rashogullas that is  one of the most favorite sweet dish among the diaspora of the Indian Sub-Continent.
So lets get indulge in the magic of making these sweet juicy balls at our home.
Servings: makes about 25 rasgullas
Ingredients:
Milk: 2 ltr
Lemon juice: 2 tbsp
Maida: 1 tbsp
Sugar: 600-700gm
Method:
For making chenna
1. Take milk in a heavy bottom pan and bring it to boil by adding little lemon juice to it.
2. Stir it continuously till white curd appears at top and water collects at bottom.
3. Now put this curdled milk in strainer which is lined with muslin cloth. Drain the water and rinse chenna with cold water to get rid of lemon flavor. Remove excess water from chenna by pressibg muslin cloth. It should not have excess water or moist rasgullas will break down.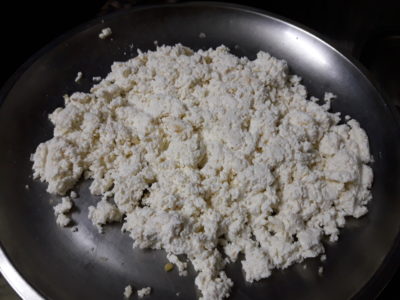 4. Collect chenna in a plate . Now this is most important part of making rasogullas. Add 1 tbsp of maida in chenna and mix well. With your palms keep on pressing the chenna and knead it to a soft dough. I kneaded for about twenty minutes.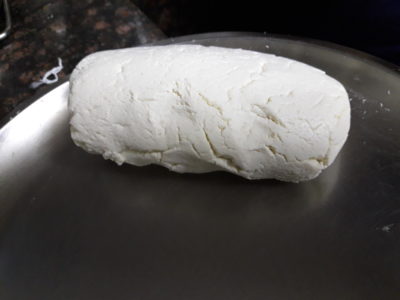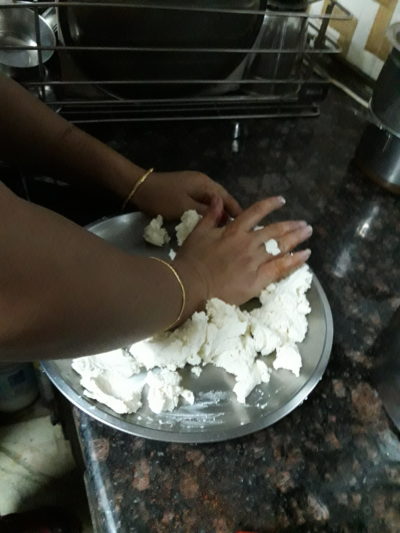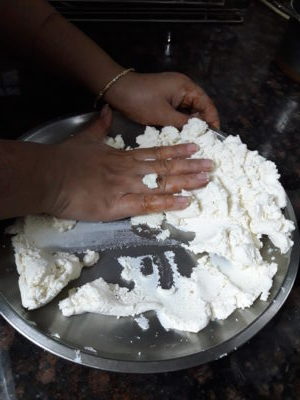 5. Now divide the dough in equal portions. Make small balls from it.
For making sugar syrup:
6. I am preparing rasgullas in pressure cooker. You can also use heavy bottom vessel. Take about one and half litre water in pressure cooker. Add sugar to it and bring it to boil.
7. When water starts boiling add chenna balls to it and close the lid. After first whistle on high flame, lower down the flame and cook for 8-10 minutes.
8. Switch off the flame. Cool it down by putting pressure cooker under water. Open the lid and transfer puffed rasgullas and sugar syrup in serving bowl.
9. Let it come to room temperature and then keep in refrigerator for 5-6 hours. Serve chilled and enjoy yummy rasgullas.


Like Delicious.Desi on Facebook.