Black forest cake is an German dessert. Black forest is a mountain range situated in southwest Germany. The name Black forest cake is  Called Schwarzwälderkirschtorte in German, which means Black Forest Cherry Torte or Gateau.
Black forest cake consists of layers of sponge cake which has whipped cream in between. It is decorated with more whipped cream , cherries and chocolate shavings. This is my favorite cake. I prepared it for my sis- in-law's birthday. And believe me it tastes so yummy.
Servings: 5-6 
Ingredients:
For making cake base:
Powdered sugar: 1 cup
Oil: 1/4 cup
Maida or refined flour:  one+ 1/4 cup
Milk: 1 cup
Lemon juice: 2 tbsp
Vanilla essence: 2 tbsp
Baking powder: 1/2 tsp
Baking soda: 1/2 tsp
Milk: 1 cup
Cocoa powder: 1/4 cup
Salt: 1 tsp
Whipped cream : around 500 gm
Cherries: 1 cup
Chocolate shavings: as needed ( make it from dark chocolate compound)
Orange juice: 1 cup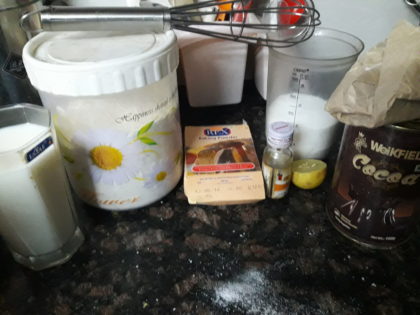 Method:
For making chocolate base:
1. Take oil in  bowl. Add sugar and mix well with a beater.
2. Sieve maida, baking soda, cocoa powder and baking powder.
3. Add vanilla essence, milk, lemon juice to sugar mix and whisk.
4. Add refined flour or maida, cocoa powder, salt, baking soda and baking powder. Mix everything.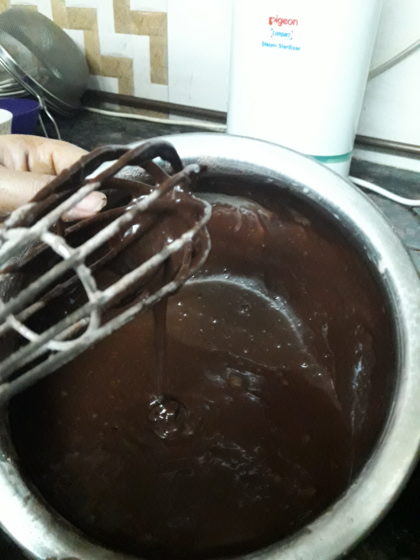 5. Grease a cake tin. Pour the mix in this cake tin.
6. Bake on microwave high for 5-7 minutes. Cool it and keep aside.


Like Delicious.Desi on Facebook.