Chili garlic mushroom is an Indo chinese recipe. It  is favorite  recipe of my family especially my husband as he is mushroom lover. Mushrooms are easily available in winters so we use to prepare mushrooms twice a week. It can be served as starter or snack. But we use it as side dish during our meals. I am adding lots of vegetables to it as it will make it more healthier and tasty.
Serving: 7
Ingredients:
Mushroom: 250 gm
Garlic: 8-10 cloves chopped finely
Ginger: 1 tbsp paste
Capsicum thinly sliced: 3( green, yellow, red)
Onion: 2 rings
Tomatoes: 1 chopped
Baby corn: 4-5 cut them in halves
Oil: 2 tbsp
Green chilli: 1 chopped
Soya sauce: 1 tbsp
Green chili sauce: 1 tbsp
Tomato Ketchup: 1 tbsp
Salt: to taste
Black pepper powder: 1/4 tsp
For batter:
Cornflour: 4 tbsp
All purpose flour or maida: 2 tbsp
Salt: 1/2 tsp
Water: for making thick consistency batter
Oil: for deep frying
Method:
1. Rinse and dry wipe mushrooms and cut them in halves.
2. Make a flowing medium consistency batter by adding water to cornflour, all purpose flour .
3. Add mushrooms and baby corn to batter and coat them with batter.
4. Heat oil in a kadai. Add mushrooms and deep fry them till golden brown.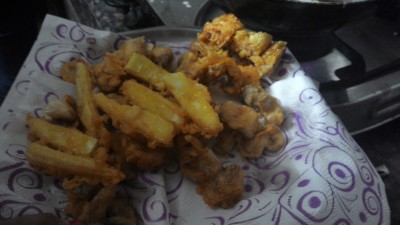 5. Heat 2 tbsp oil in a pan. Add ginger paste and chopped garlic and saute. Add all vegetables and cook. Capsicum should have some crunch in them.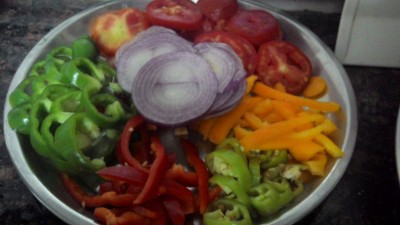 6. Add soya sauce, green chili sauce, tomato ketchup, salt, black pepper powder and mix well.
7. Add mushrooms and babycorn. Mix and cook for 3-4 minutes.
8. Enjoy this as snack or as side dish.


Like Delicious.Desi on Facebook.