Club sandwich is an easy  layered sandwich recipe which can be served as snack or as breakfast.
Servings: 2
Ingredients:
Bread slices: 8
Tomato ketchup: 2 tbsp
Green chutney: 2 tbsp
Tomato: 2 sliced
Capsicum: 1 chopped
Cucumber: 1 grated
Mozzarella cheese: 4 tbsp
Til or sesame seeds : 1 tbsp
Butter: 2 tbsp
Maida: 4 tbsp
Oregano: 1tsp
Oil: 4 tbsp
Method:
1. Grate cucumber. Squeeze out the excess water. Mix cucumber and chopped capsicum.
2. Take one bread slice. Apply  green chutney over it. Spread cucumber and capsicum over it.
3. On second bread slice apply tomato ketchup. Put tomato slices over it.
4. On third bread slice spread butter and then spread grated mozzarella cheese over it.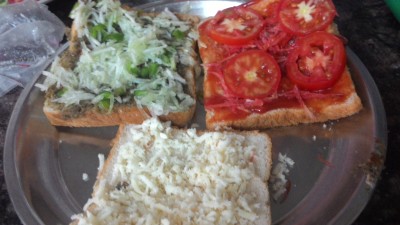 5. Pile up the bread slices over each other. On top place fourth bread slice.
6. Mix maida and oregano. Add little water and form a medium consistency paste.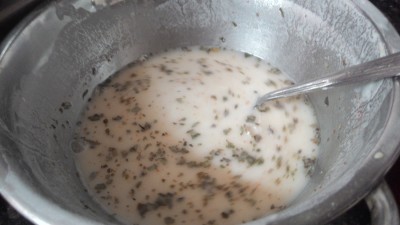 7. Hold the bread slices tightly in your hand and dip it in maida mix.
8. Put 1 tbsp oil on tawa. Put sandwich over it and cook it on medium flame from both the sides. Apply little more oil to it.
9. Spread some til seeds over it and serve hot.


Like Delicious.Desi on Facebook.