Gujiya is deep fried sweet dumpling made of maida, sooji, khoya and dry fruits. This is North Indian dish and made especially during Holi festival. I think holi of us North Indians is incomplete without gujiyas. So prepare these delicious gujiyas with me.
Serving: 30-35 gujiyas
Ingredients:
For outer covering of gujiya or pastry
Maida: 1/2 kg
Ghee or oil: 5 tbsp
Water: to knead dough
For stuffing:
Sooji: 250 gm
Mawa: 250 gm
Chironji: 200 gm
Ghee: 5-6 tbsp
Grated coconut: 1/4 cup
Sugar: 200 gm powder
Kishmish or raisins: 50 gm
Oil: for deep frying gujiyas
Method:
For pastry:
1. Sift maida in a bowl. Add ghee and mix with maida. Mix maida and ghee with your fingertips so as they give breadcrumbs like appearance.
2. Add water and and knead it to a stiff dough. Cover it with muslin cloth and keep it aside for half an hour.
For stuffing:
3. Heat ghee in a kadai. Add sooji and roast it till it becomes light brown in colour. This will take about 8-10 minutes.
4. Put roasted sooji in mixing bowl. Add mawa or khoya to kadai and roast for 4-5 minutes on medium flame till it becomes soft and light brown in color.
5. Mix mawa with sooji. Also add  powdered sugar, grated coconut, chironji, kishmish and mix well. Our stuffing for gujiya is ready.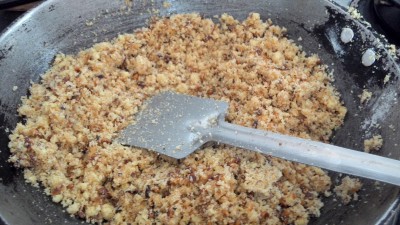 For making gujiyas
6. Divide dough in equal sized small balls. Take one ball and roll it into poori of 4-5 inch diameter.
7. Place sooji-khoya stuffing in the center . Lightly moisten the edges with maida-water mix.( In a bowl add 1 tbsp maida. Add a little water to form a thick paste)and fold the other half over the stuffing. Press the edges.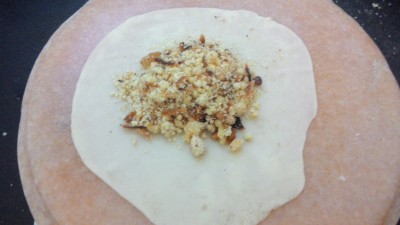 8. Now cut the edges with this  cutter or roller. This roller is very old one and is made by my late grand father.
OR
you can take a gujiya mould. When making gujiyas with gujiya mould place the flat poori in mould. Put stuffing on one partition and close both the partition a little tightly. Remove excess poori portion. Use this excess portion in forming more gujiyas.
9. Make gujiyas in this way and cover them with damp cloth.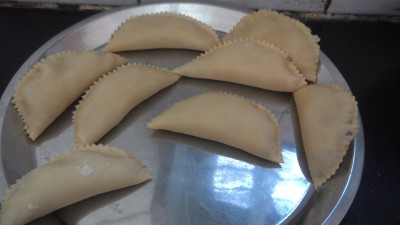 10. Now heat sufficient oil in a kadai. Put 4-5 gujiyas at one time. Deep fry them at medium heat till they become light brown and crispy.
11. Put them on absorbent paper so that excess oil can be removed.
12. Store them in air tight container and enjoy eating them and serving them to your friends.


Like Delicious.Desi on Facebook.