Popular street food in India especially in Gujarat, Rajasthan and parts of Madhya Pradesh  is Dabeli which has its origin in kutch, Gujarat. Garlic chutney, dabeli masala and sev are important ingredients of making dabeli.
Serving: makes 6 dabeli
Ingredients:
For dabeli masala:
Dry red chili: 2
Coriander seeds: 2 tbsp
Cinnamon stick: 1/2 inch
Jeera or cumin seeds: 1 tbsp
Cloves: 2-3
For Garlic chutney:
Dry red chili: 2
Garlic cloves: 10-12
Lemon juice: 1 tbsp
Salt: to taste
For aloo masala:
Boiled potatoes: 4-5
Salt: to taste
Imli chutney: 4-5 tbsp
Dabeli masala: 2 tbsp
Pomegranate or anar seeds: 1/2 cup
Jeera powder: 1/4 tsp
Chopped coriander: 1 tbsp
Chopped onion: 1
Oil: 1 tbsp
Other things:
Imli chutney: 1/4 cup
Pav: 6
Roasted peanuts: 1/2 cup
Nylon Sev: 1/2 cup
Chopped coriander: 2 tbsp
Pomegranate seeds: 1/2 cup
Butter: 2 tbsp
Method:
For making dabeli masala:
1. Dry roast all spices on tawa. Add them in grinder and make a fine powder. Keep aside.
For making garlic chuteny:
2. Soak dry red chili in warm water for 10 -15 minutes.
3. Add garlic, dry red chili and lemon juice in grinder and grind it to a  smooth paste. Keep it aside.
For aloo masala:
4. Heat oil in a kadai. Add cumin seeds and heeng. When they start to splutter add  chopped onions and saute.
5. Add mashed potatoes, salt, tamarind chutney and cook potatoes for 4-5 minutes on low flame. If mixture becomes dry add more chutney.
6. Add half of dabeli masala, chopped coriander, half pomegranate seeds and mix well. Put this mixture in plate.
Assembling dabeli: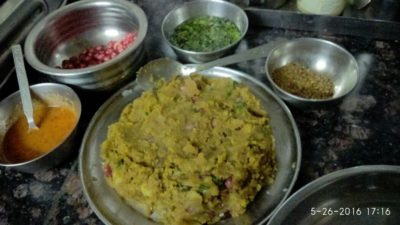 7. Split the pav horizontally but don't cut them thoroughly.
8. Spread garlic chutney on one piece of pav and tamarind chutney on other half.
9. Spread aloo masala, some peanuts and anar ke dane in between pav . Place pav on tawa and roast them with little butter.
10. Spread some nylon sev and dabeli masala and serve. Happy cooking.


Like Delicious.Desi on Facebook.