Dal makhni is a popular punjabi dish.Main ingredients of dal makhani are whole black gram or sabut urad dal without  kidney beans or rajma.This dish is rich in calories as it contains loads of butter and fresh cream.It is a commom saying among punjabi families that dal makhni tastes better if served on second day.So here's the recipe of this yummy dal makhni.
Servings:4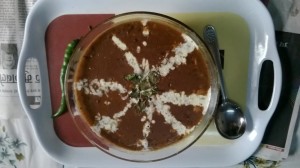 Ingredients:
Whole black gram or sabut urad:1 cup
Water:4 cups
Cumin seeds:1/4tsp
Cumin or jeera powder:1/2tsp
Salt:to taste
Red chilli powder:1tsp
Haldi powder:1/2tsp
Garam masala:1tsp
Onion :1 medium sized (chopped)
Tomatoes:2 (chopped)
Ginger paste:1 tsp+chopped ginger 1tsp
Garlic :6-7 cloves
Greeen chillies:1 (finely chopped)
Corainder leaves(for garnishing)
Ghee or oil:3 tbsp
Butter:3tbsp
Full  cream :1/4 cup+1/2tsp for garnishing
Method:
1.Soak  sabut urad overnight in 4 cups of water.Drain water.
2.Pressure cook soaked sabut urad by adding 3 cups of water.Also add chopped ginger ,garlic,salt.
3.Pressure cook for  some 10-12 whistles.It almost took about 45-60 minutes.Pressure cook them till they become completely soft.
4.Now add ghee in a kadai.Add chopped onions,tomatoes.Add red chilli powder,jeera powder,green chillies,ginger paste,haldi powder.Saute this till tomatoes and onions becomes soft or till oil starts leaving.
5.Add cooked urad . Add water if mixture is too thick.Add butter and mix it well.
6.Simmer dal on low flame for about 15 minutes till it gets creamy consistency.Keep on stirring in between.
7.Add full cream and simmer dal makhni for 5 more minutes.
8.Garnish dal makhni with coriander leaves and full cream.
9.Serve hot with naan or roti.


Like Delicious.Desi on Facebook.