Gulabjamun is favorite dish of India especially in the northern states.They are mostly served as desserts in Indian homes at parties,marriages,festivals.We will make gulabjamuns with khoya or mawa  dipped in sugar syrup.
Ingredients: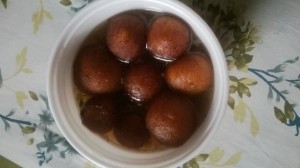 Khoya or mawa:200gm
Maida or refined flour:50gm
Baking Powder:1/4tsp
Cardamom Powder:1/4tsp
Paneer :100gm
Ghee:to deep fry
Sugar:2 and a half cup
Water:3 and a half cups
Rose essence:1/4tsp
Few strands of Kesar
Kishmish ,Pista:1/4cup finely chopped
Method:
1.Take Khoya in a bowl.Mix it with maida,baking soda and panner and mash it in a way that no lumps are formed.Main step of making gulabjamuns is that the dough must be kneaded till it attain its softness to the core .
2.Keep this dough covered with a wet cotton cloth for half an hour.
3.Till the time make sugar syrup by adding sugar to water.Heat the sugar solution till it reaches two thread consistency.Add rose essence and kesar strands to this sugar solution.
4.Now make small balls from the dough.Place chopped Kishmish and pista in between the balls.
5.Heat the ghee in a kadai.Add these balls to kadai and fry them on low flame till they become golden brown.
6.Place all gulabjamuns in sugar syrup for half an hour.Gulabjamuns will absorb sugar syrup and increase in size.
7.Serve these gulabjamuns hot.


Like Delicious.Desi on Facebook.