Seduce your taste buds with the mouth watering GRAVY CHICKEN(in punjabi­dogri style)Hey guys,if u're bored of eating out those kfc and Mc D stuff and your taste buds are demanding some flavour of your motherland.Get ready to enjoy this gravy chicken full of spices…yeah THE TADKA INDIANO 🙂 NOTE:If you are a pure veggie…..,still you can try the spicy stuff by replacing the chicken with the soya chaps available in the market.(don't worry it even has an ice­cream stick to compensate the leg piece.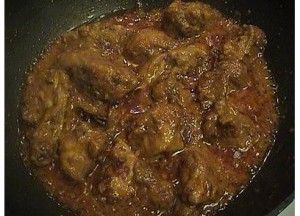 SERVING:3-­4 people
INGREDIENTS:
For marination
Chicken(I prefer the leg peices<1/2 kg)
­ 2 table­spoon Ginger­garlic paste ­
4 tablespoon mustard oil
­ 1/2  cup curd
­ 2 tablespoon turmeric powder(haldi)
­ 2 tablespoon salt(acc. to taste though) ­
2 tablespoon red chilly powder
­ 2 tablespoon coriander powder(dhaniya powder)
(For the gravy)
­ 3 tablespoon ghee
­ a pinch of asafoetida(hing)
­ 4 cloves(laung)
­ 2 medium sized cinnamon sticks(dalchini)
­ 1/2  spoon of cumin seeds(jeera)
­ 2 bay leaves(tezpatta)
­ 2 Indian cardamom(kali ilaychi)
­ 2 tablespoon Ginger­garlic paste ­
4 onion(made into paste)
­ 1/2  spoon salt
­ a pinch of haldi
­ 2 medium sizeTomato(made into puree)
­ 1/4 tspRed chilli powder
Cashew nut paste(optional) ­
1/2 spoon of anardana powder
­ 1 tablespoon kasuri methi
­ few strands of kesar
(For garnishing)
­Butter
­Coriander leaves
Directions for cooking:
1. Marinate the chicken with all the ingredients of the marination section above.
2. Refrigerate for 1 to 2 hours.
3. Heat all the Indian spices(khade masale) except asafoetida and tezpatta and then slightly grind them(dardara peesna).(It will increase the delicious aroma many folds.)
4. Heat ghee in a deep utencil(Indian handi.)
5. Add hing and tezpatta to the oil and then put the ginger­garlic paste.Simmer the gas and stir in between .
6. Mix the onion paste into it and simmer till it becomes golden brown.Add the salt,haldi and chilly powder.
7. Now add the marinated chicken to the gravy and let it get completly cooked on the medium flame with the covered lid,while keeping a check and stirring it in between.(It nearly takes 20 minutes) * As chicken contains a lot of water therefore no need to add much of it.
8. Add the tomato puree ,cashew paste,chilli powder and fry a little till the gravy thickens. * Tomatoes shuld be mixed afterwards or else the chicken will take more time to get cooked.
9. Put the anardana powder and kasuri methi with some black pepper and kesar strands in the non­resisting output.  10.Garnish with little butter and coriander leaves.Serve with chapathis.


Like Delicious.Desi on Facebook.