Mango is everywhere. So i have tried my hands in making mango cake. And believe me it came out so soft and yummy.
Servings: 6-7
Ingredients:
All purpose flour or maida: one and half  cup
Atta: 1/4 cup
Mango pulp: 2 mangoes
Sugar: 3-4 tbsp
Condensed milk: 5 tbsp
Cardamom powder: 1 tsp
Butter: 100 gm
Baking soda: 1/2 tsp
Baking powder: 1 tsp
Milk: 3-4 tbsp
Oil: for greasing cake mould
Method:
1. Sieve atta, maida, baking powder and baking soda and cardamom powder in a mixing bowl.
2. For making mango puree : Chop 2 mangoes and grind them to a smooth paste in a grinder.
3. Now in an another bowl add melted butter. Add condensed milk and mix well. Add sugar and mango pulp and mix again with a ladle.
4. Add maida- atta mix in mango puree mix . Add a little milk so that batter becomes little fluffy.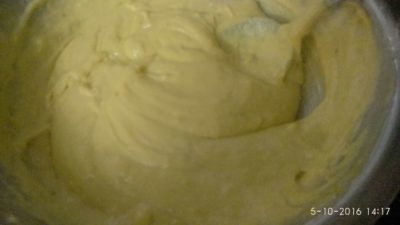 5. Preheat oven to 180 degree centigrade.
6. Put the cake batter in greased cake mould. Put cake mould in preheated oven for 30 minutes. Check with the help of skewer if it comes out clean then our cake is ready.
7. Sprinkle ice sugar over it. Let it cool and enjoy it with your family and friends.


Like Delicious.Desi on Facebook.