Parathas or Indian flat bread is a common dish which we used to prepare for breakfast. But i think every home maker face the situation when they have lot of dal left with them and no body  wants to eat that dal. So here comes tasty parthas made from left over dal. Just add dal and some more spices to your parathas dough and here you have a new variety in your daily breakfast menu. You can made these parathas with any dal left with you.
Servings: 4
Ingredients:
Wheat flour: 2 cup
Left over dal(any): 1 cup ( i am using mah chole dal)
Onion: 1 chopped
Salt: to taste
Red chili powder: 1/4 tsp
Jeera powder: 1/4 tsp
Coriander powder: 1/2 tsp
Coriander: 2 tbsp chopped
Green chili: 1 chopped
Besan: 2 tbsp
Kasoori methi: 1 tbsp
Oil: 1/2 tbsp
Method:
1. In a mixing bowl put atta or wheat flour and then add remaining things.
2. Add sufficient water and knead a soft pliable dough. Keep it for half an  hour.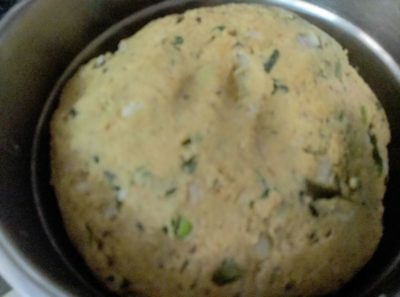 3. Now divide dough into equal portions and make smooth ball.
4. Roll each portion into circle of diameter of 6 inch. Don't make them too thin.
5 .Heat tawa and place rolled paratha on it.Flip it and cook other side as well.
6.Apply desi ghee on both sides and cook till both layers become golden brown.
7. Serve these parathas with curd or pickle.


Like Delicious.Desi on Facebook.