An easy breakfast recipe made from eggs. Savory french toast is classic breakfast recipe which is usually prepared at my place. This is healthy option for kids as well as we can add some grated vegetables in it. I am using brown bread here, you can use white bread as well.
Serving: 2
Ingredients: 
Eggs: 4
Bread slices: 4
Onion: 1 chopped
Coriander: 3-4 tbsp chopped
Capsicum: 1 chopped(optional)
Salt: to taste
Red chili powder: 1/4 tsp
Black pepper: 1/4 tsp
Grated processed cheese: 4 tbsp
Butter: 4 tbsp
Method:
1. Add chopped onions, tomatoes, cheese, coriander, salt, black pepper powder, red chili powder in a mixing bowl. Break eggs in it and whisk well.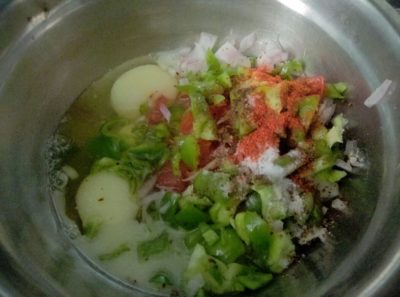 2. Heat a tawa. Put 1 tbsp butter on it. Dip one bread slice in egg batter and cover it with veggies.
3. Put the bread slice on tawa. Cook from both sides till it becomes golden brown and egg gets cooked.
4. Serve hot with tomato ketchup.


Like Delicious.Desi on Facebook.