This is my first post in achaar section. I love gobhi gajar and shalgam achar. This achar is prepared during winters. This is khatta-meetha achaar as i am using gur or jaggery in this.
Ingredients:
Carrots: 500 gm
Cauliflower: 500 gm
Shalgam or turnip: 250 gm
Mustard Oil or sarson ka tel: 1 cup
Ginger: 4-5 tbsp coarsely grounded
Garlic: 4-5 tbsp coarsely grounded
Mustard seeds or rai: 4 tbsp
Gur or jaggery: 1.5 cup crushed
Vinegar: 1/2 cup
Salt: 8-9 tbsp
Red chili powder: 3-4 tbsp
Garam masala powder: 2-3 tbsp
Method:
1. Cut carrots in One and half inch pieces. Separate cauliflower florets. Peel and cut shalgam in 1 inch pieces.
2. Boil 7-8 cup water. Add all three vegetables in it. Let it simmer for 2-3 minutes. Drain the water.
3. Spread vegetables on cloth and dry them in sun for 1-2 hours or in shade for 3-4 hours.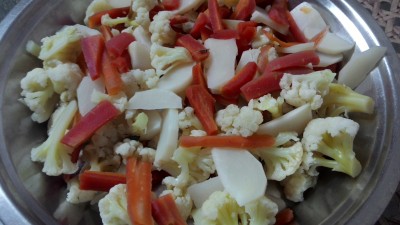 4. Heat oil in a kadai. Add ginger and garlic and saute on medium flame.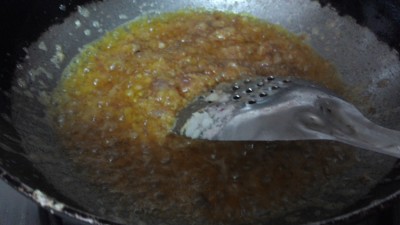 5. Add rai, salt, red chili powder, garam masala and cook for one minute. Add jaggery or gur and let it melt completely.
6. Add all vegetables and mix well. Mix well and cook for 4-5 minutes. Switch off the flame.
7. Let it cool down completely. Add vinegar and mix well.
8. Store it in glass jar and enjoy this spicy achaar with your daily meals.


Like Delicious.Desi on Facebook.