I haven't tasted soya chaap before my marriage. My husband and father-in-law are great fans of soya chaaps. They go to market and bring back home various varieties of chaaps as tandoori chaap, afghani chaap etc. This is for the first time that i tried my hands in making soya chaaps at home. The odour of the masalas or spices was awesome and it taste very good also. So here's the recipe of grilled soya chaap.
Servings: 5
Ingredients:
Soya chaap:   1/2 kg
For marinating:
Thick curd: 250 gm
Salt: to taste
Red chili powder: 1/2 tsp
Jeera powder: 1/2 tsp
Garam masala: 14 tsp
Coriander powder: 1/2 tsp
Dry mango powder or amchur: 1/2 tsp
Kasoori methi: 1/4 tsp
Haldi powder: 1/4 tsp
Ginger- garlilc paste: 1 tsp
Chaat masala: 1/2 tsp
Oil: 1 tbsp
Oil: for grilling
Method:
1. Take thick curd in a bowl . Add all the spices and oil and mix well.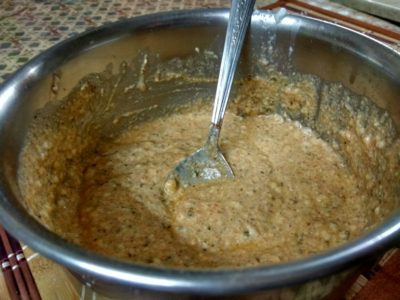 2. Put soya chaaps in it and cover them with masala curd evenly. Keep it in fridge for 3-4 hrs or overnight as they become soft.
3. Now take out from fridge and grease a baking tray. Put these marinated chaaps on baking tray and drizzle little oil over them.
4. Grill for 15 minutes. In my IFB microwave oven i have Microwave+  grill option. I put it on that option for 10 minutes.
5. Turn the side and again grill for 10 minutes .
6. Arrange soya chaap on serving palte and serve with green chutney and onions.


Like Delicious.Desi on Facebook.