Paneer besan cheela is a healthy breakfast recipe.You can put finely grated vegeatbles in besan batter.For stuffing fill it with paneer as it is a rich source of calcium,proteins.Paneer besan cheela is good option for kids lunch box also.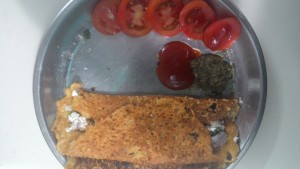 Servings:Makes 5 chillas
Ingredients:
Besan :1 cup
Cauliflower:1/4 cup grated
Onions:1/2 cup
Ginger:2tsp grated
Salt:to taste
Ajwain:1/4tsp
Red chilli powder:1/4tsp
Jeera powder:1/4tsp
Green chilli:1 chopped
Coriander:1tbsp chopped
Paneer:1/2 cup mashed.
Oil:for shallow frying
Water:1/2 cup
Method:
1.Put besan ,onions,coriander,chilies,grated cauliflower ,ginger in a bowl and mix it well.Add all the spices.
2.Add water to make a smooth batter of pouring consistency.Make sure that no lumps are formed.
3.For making stuffing mix  grated paneer ,chopped onions ,salt,red chilli powder.
4.Heat a non stick tawa.Grease it with little oil.Put a ladle full of besan batter on the tawa.Cook cheela from both sides by applying some more oil.
5.Place paneer stuffing in centre and fold the cheela.
6.Serve hot with pudina chutney .


Like Delicious.Desi on Facebook.