Paneer butter masala is a popular dish in North India.Paneer dishes are most loved dishes of vegetarian people.I had used fresh cream and cashewnuts to give this dish a creamy and rich look.
Servings:4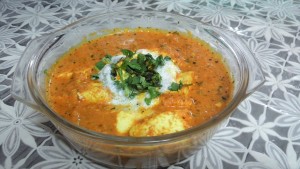 Ingredients:
Paneer:250gm
Onions:2 sliced
Tomatoes:3-4 sliced
Ginger paste:2tsp
Garlic paste:2tsp
Cashewnuts or kaju:7-8 soaked  in water for 15 minutes
Butter:2tbsp+1 tsp oil
Tej patta or bay leaf:1 leaf
Salt:to taste
Red chilli powder:1/4tsp
Coriander powder:1/4tsp
Garam masala:1/4tsp
Turmeric powder:1/2tsp
Kasuri methi:1/4tsp
Fresh cream:2tbsp+for garnishing
Coriander :for garnishing
Water:2 cup
Method:
1.Heat oil and butter in a pan .Add tej patta for few seconds.Add ginger and garlic paste.Saute for 2-3 minutes.
2.On other side blend onions and tomatoes together in a blender.Also blend kajus separately.
3.Now add these blended onion and tomato paste to ginger garlic paste .Add red chilli powder and turmeric powder.Fry this masala till oil starts to leave.
4.Add cashew nuts or kaju paste along with coriander powder.Saute for 2 minutes.
5.Add fresh cream , simmer for  3-4 minutes .Add salt also.
6.Now add paneer cubes and water .Cook for two more minutes.
7.Add kasuri methi and garam masala and mix the gravy.
8.Garnish with coriander and a spoonful of fresh cream.
9.Serve this hot paneer butter masala with naan or any bread of your choice.


Like Delicious.Desi on Facebook.