Paneer corn balls are healthy and easy to made snack. Balls can be made in advance and can be deep fried at the time of serving. Paneer corn balls is a good option for kitty parties, for family gatherings. Let's have a look to recipe.
Servings: makes 28-30 balls
Ingredients:
Paneer : 200 gm
Corn or makai ke dane: 1oo gm
Green chili: 1 chopped
Salt: to taste
Red chilli powder: 1/2 tsp
Corn flour: 2 tbsp+ 4 tbsp for  making paste
Coriander: 3 tbsp chopped
Ginger paste: 1 tbsp
Oil: for deep frying
Bread crumbs: 1/2 cup
Method:
1. Boil water in a pan. Add corn to boiling water and cook for 5 -7 minutes or  till it becomes soft. Keep them aside . Put them in grinder and roughly grind them.
2. Grate  paneer in a bowl. Add chopped coriander, green chili, grated ginger, salt, red chili powder and mix. Add  roughly grinded corn, cornflour and mix well.
3. In a bowl add 4 tbsp of cornflour and form a thick paste by adding little water.
4. Take small quantity of mixture in  hand and form a small ball. You can make about 28-30 balls. Make all the balls first.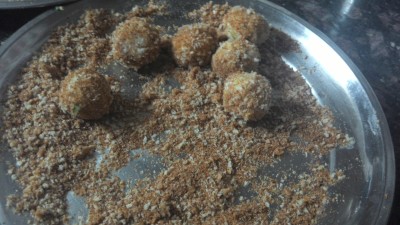 5.  Then dip each ball in cornflour mixture and then coat it with bread crumbs.  Keep all balls in refrigerator for 15- 20 minutes to set.
6. Heat oil in kadai. Put 3-4 balls at a time and  fry till golden brown.
7. Keep them on absorbent paper so that excess oil can be removed.
8. Serve them hot with ketchup and imli chutney.


Like Delicious.Desi on Facebook.