Samosas ,the most famous appetizer or snack in Indian subcontinent.They are mostly served with mint chutney or tamarind chutney but in some parts of rajasthan especially in ajmer they are served with kadi.
I am sharing yummie samosa recipe with you,as it is one of my husband's favorite too.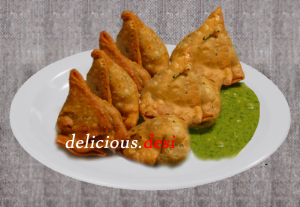 Ingredients:
FOR COVERING
Refined Flour or maida                                       1 cup
Carom seeds or ajwain                                       1/4 teaspoon
Oil                                                                      2 tablesoon+ for deep frying samosa
Water                                                                 to knead dough
Salt                                                                     to taste
FOR STUFFING
Potatoes                                                            4-5 (boiled,peeled,mashed)                                                 Peas                                                                  1/2cup(boiled)
Green chillies                                                      1-2 (finely chopped)
Amchur powder                                                  1 teaspoon
Garam masala powder                                        1 teaspoon
Redchilli powder                                                1 teaspoon
Salt                                                                    to taste
Corriander powder                                            1 teaspoon
Corriander leaves                                           2 tablespoon ( finely choppped)
Ginger                                                               1 tablespoon(crushed)
Cumin seeds                                                     1 teaspoon
oil                                                                     2 tablespoon
Method
FOR COVER
1.Mix maida ,ajwain,salt,oil together.
2.Add water little by little and knead it into soft pliable dough.
3.Keep it covered with muslin cloth for about 1/2 an hour.
FOR STUFFING
1.Heat 2 tablespoon of oil in karahai.
2.Add cumin seeds.
3.When cumin seeds began to crackle add mashed potatoes,peas ,all dry powders ,finely chopped corriander and ginger.
4.Stir fry for few minutes.When mixture turns light brown in colour ,switch off the flame.

Procedure
1.Take a small ball of dough and roll it into round shape with rolling pin.
2.Cut each round part into half like semi circles.
3.Take one semi circle and give it a cone like shape by bringng one edge to the centre then putting other edge over it.
4.Fill the cone with 2 tablespoon of filling,and seal the open part using a little amount of water
and pressing it with your fingertips.
5.Heat oil in karahai and deep fry samosa on medium flame till it becomes golden brown.
6.Serve it hot with mint or tamarind chutney


Like Delicious.Desi on Facebook.