A yummmmm potato recipe which is favorite of all my family members.This lacha tokri or potato basket is made of grated potatoes and can be filled with filling of your choice.I am using sprouted moong,paneer cubes,tomatoes,boiled chickpeas as main stuffing. We can prepare and store these baskets  in air tight container in advance also.
Servings :4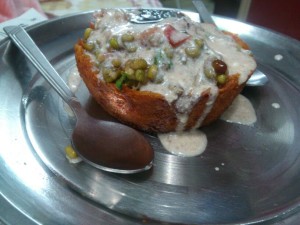 Ingredients(for potato basket)
potatoes:4 medium sized
oil:for deep frying
For filling
moong sprouts:1/2 cup
boiled chickpeas:1/2 cup
paneer cubes:8 pieces small sized cubes
tomato:1 (chopped)
salt:to taste
red chilly powder:1/2 tsp
chaat masala:1/2 tsp
jeera powder:1/2 tsp
tamarind chutney:2 tbsp
mint chutney:2 tbsp
curd:1/2 cup(lightly beaten)
coriander leaves:for garnishing
barik sev :for garnishing
Method(for potato recipes)
1.Peel and thickly grate the potatoes.Soak these grated potatoes in cold water for 5 minutes.
2.Drain and dry them on absorbent kitchen towel.Divide them into 4 equal portions.
3.Heat sufficient oil in kadai.Place one portion of grated potatoes in bigger strainer and press with other strainer.Fry in hot oil till basket becomes golden brown.Invert the strainer and tap gently so that basket come out.Place this basket on absorbent paper so that excess oil can  be removed.
(For filling)
1.Add moong sprouts,chickpeas,tomatoes ,paneer cubes.Add salt,red chilli powder,jeera powder,chaat masala,tamarind chutney ,green chutney and mix well
Final step:
Put the above filling in potato basket.Pour curd ,some more of tamarind and green chutney.Garnish your tokri with corriander leaves and sev.Serve this tokri immediately or it will get soggy and you will not be able to enjoy crunch of potato tokri.


Like Delicious.Desi on Facebook.