Sandesh is a Bengali sweet recipe. It is made from fresh paneer and sugar. It is very easy to prepare and does not need many ingredients just few things and your delicious sandesh  or sondesh are ready to eat.
Servings: 25
Ingredients:
Milk: 2 ltr
Lemon : 1
Cardamom powder: 1 tsp
Sugar: 1/2 cup powdered sugar
Saffron: 20 threads
Pistachios: for garnishing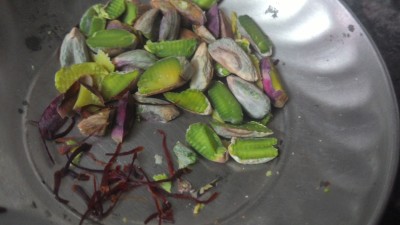 Method:
1. Bring milk to boil. When it comes to boil add lemon juice stirring continuously. Switch off the flame. Within 2-3 minutes milk solid and liquid of milk will starts separating.
2. When they start separating add it to sieve(line a cloth over it) and drain the liquid. Wash paneer or chena with cold water so that lemony taste get removed.
3. Now collect chena or panner in cloth and hang it for half an hour so that water get removed.
4. Now take chena in a mixing bowl and knead it with your hands. Add powdered sugar, cinnamon powder, saffron strands mixed in little water and knead it with your hands.
5. Put this smooth chena to kadai and stir continuously on a medium flame for 4-5 minutes. Switch off the flame.
6. Let it cool for some time. After that roll them to balls and flatten a little. Garnish with chopped pistachios. Place it for half an hour in freeze before serving and enjoy SONDESH.
Note: You can also use milkmaid in making sandesh. Use 1/2 tin milkmaid and 2 tbsp sugar for above recipe. Add milkmaid to kadai along with paneer and stir.


Like Delicious.Desi on Facebook.