Schezwan pinwheels are easy to make and can be served as snacks in parties etc. They are little spicy as schezwan sauce is added in it. I tried it for first time and i like the spicy touch in it very much. Try out the recipe and serve it to your guests and i am sure your guests will love it.
Servings: Makes 15 pinwheels
Ingredients:
For pinwheels:
Maida: about 2 cups
Warm water: 1/2 cup
Dry active yeast: 1/2 tbsp
Olive oil: 2 tbsp
Sugar: 1 tbsp
Salt: 1 tsp
Green coriander: 4 tbsp chopped
Schezwan sauce: 2-3 tbsp(recipe given below)
For schezwan sauce:
Dried red chillis: 15
Ginger: 2 tbsp  finely chopped
Garlic: 2 tbsp  finely chopped
Celery: 2tbsp
Onion: 1 small finely chopped
Vinegar: 2 tbsp
Salt: to taste
Black pepper powder: 1/4 tsp
Red chilli sauce: 2 tbsp
Soya sauce: 1 tbsp
Tomato ketchup: 2 tbsp
Saunf powder: 1/2 tsp
Oil: 5-6 tbsp
Method:
For schezwan sauce:
1. Soak dried red chilli in hot water for about an hour. Drain water and grind red chillis to a smooth paste.
2. Heat oil in a kadai. Add chopped ginger, garlic, celery. Also add chopped onions and cook on medium heat for 2-3 minutes.
3. Add chilli paste and vinegar and cook for five minutes . Add red chilli sauce, soya sauce, tomato ketchup.Also add salt, black pepper powder and saunf powder and cook till oil separates.
Method:
1. Add yeast and sugar to warm water and leave it for 10 minutes so that bubbles appear in it.
2. Mix salt and flour well. Add yeast mixture to it. Whole mixture becomes sticky. Add olive oil to it, this helps in rolling smooth and fine dough.
3. Cover it with a cloth and keep it aside for one hour. After an hour it will double in size. Knead it again for 2 minutes so that excess air can be removed.
4. Divide it into 2 equal parts. On a lightly floured surface roll dough in rectangular shape.
5. Spread schezwan sauce and chopped coriander on it and roll it tightly from one end.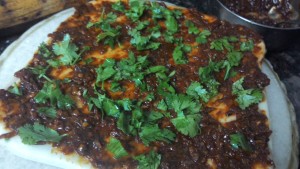 6. Cut roll into equal pieces about half inch thickness and place it on a greased baking tray. Keep some distance between rolls as they will increase in size.
7. Preheat oven to 180 degree Celsius and bake pinwheels for about 20-25 minutes.
8. Enjoy this spicy and sweet pinwheels.


Like Delicious.Desi on Facebook.