Shahi paneer is a most popular North Indian paneer dish. It is made in thick and creamy gravy made of tomatoes, onions, kaju and fresh cream.
Serving: 6
Ingredients:
Paneer: 1/2 kg
Onions: 2-3 sliced
Tomatoes: 2-3 roughly chopped
Kaju or cashewnuts: 15-20
Butter: 2 tbsp
Ginger: 1 tsp grated
Salt: to taste
Red chili powder: 1/4 tsp
Jeera powder: 1/2 tsp
Garam masala: 1/2 tsp
Coriander powder: 1 tsp
Haldi or turmeric powder: 1/4 tsp
Kasoori methi: 1/2 tsp
Fresh cream: 1/ cup
Oil: 1 tbsp
Method:
1.Heat oil in a kadai. Add grated ginger and saute. Add onions, kaju, tomatoes and cook on medium flame till onions become light pinkish and tomatoes become pulpy.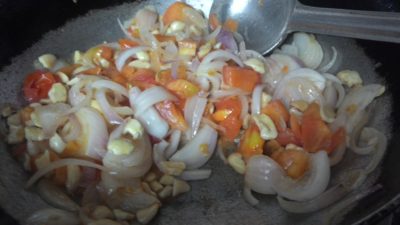 2. Let it cool and then grind them to a smooth paste.
3. Now again heat butter in a kadai. Add grinded masala and cook on low heat till oil starts leaving. Add salt, turmeric powder, red chili powder, jeera powder, coriander powder and cook for a minute.
4. Add fresh cream and cook for another 2-3 minutes. Add kasoori methi, garam masala and mix well.
5. Add paneer cubes and cover them with gravy. Add little water and cook. Gravy should be thick and creamy.
6. Transfer it to a serving bowl. Garnish with cream and chopped coriander.


Like Delicious.Desi on Facebook.