I am presenting stuffed  braided pattern bread which is cunchy and super delicious. If you add yeast to the given mixture then it will become bread like soft. I will present that recipe later. Today i  am making a crunchy braided bread which has a yummy filling of paneer and veggies in it.
Serving: 4-5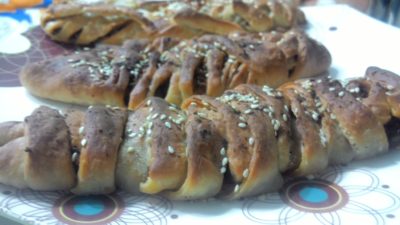 Ingredients:
For stuffing:
Paneer: 250 gm
Capsicum: 1 chopped
Onion: 1 chopped
Ginger- garlic paste: 1 tbsp
Green chili: 1 chopped
Salt: to taste
Red chili powder: 1/4 tsp
Jeera powder: 1/2 tsp
Coriander powder: 1/2 tsp
Green chili sauce: 1 tbsp
Red tomato sauce: 1 tbsp
Oil: 2 tbsp
For outer covering:
All purpose flour or maida: 2 cups
Salt: 1 tsp
Sugar: 1/2 tsp
Curd: 1/2 cup
Oil: 1 tbsp
Baking powder: 1/2 tsp
Baking powder: 1/4 tsp
Method:
For dough
1. Sieve flour, baking powder, baking soda, salt and sugar.
2. Add oil and mix everything with your fingers. mixture will look like crumbled bread mixture.
3. Now add curd and knead a smooth dough. At first dough will be soft, sticky but keep on kneading. If you want apply some oil on your hands.
4. Cover the dough with kitchen towel for 4-5 hrs as it will increase in size. Again knead the dough and punch the air.
For stuffing:
1. Heat oil in a pan. Add ginger-garlic paste and saute. Add chopped onion and saute till become golden brown.
2. Add chopped capsicum and green chili and cook till capsicum becomes a little soft. Add salt, red chili powder, jeera powder,  and mix well. Add tomato sauce and green chili sauce and cook for one minute.
3. Our stuffing is ready.
For the braided bread:
1. Preheat oven to 180 degree centigrade and grease a baking tray with oil.
2. Divide the dough in 2-3 equal portions. Sprinkle flour on kitchen top.
3. With help of rolling pin roll one portion in oval shape.
4. Put paneer mix in the centre. Make cuts of about one inch width on both sides of the filling. Now take one strip from each side and overlap them and form a braid like pattern.
5. Brush the braid with melted butter. Put this braided bread in preheat oven at 180 degree centigrade for 20 minutes.
6. Enjoy hot with a cup of tea or coffee.


Like Delicious.Desi on Facebook.