Another kachori recipe which i am presenting to you is sooji kachori.  Potatoes are used for stuffing  kachoris and outer covering is made of sooji.
Serving: 12- 15
Ingredients:
For outer covering:
Sooji: 1 cup
Salt: to taste
Ajwain: 1/2 tsp
Oil: 1 tbsp
Water: 2 cup
For masala:
Potatoes: 3-4 boiled and mashed
Green coriander: 2 tbsp chopped
Green chili: 1 chopped
Salt: to taste
Red chili powder: 1/4 tsp
Garam masala: 1/4 tsp
Jeera powder: 1/2 tsp
Amchoor powder: 1/2 tsp
Coriander powder: 1/2 tsp
Haldi powder: 1/2 tsp
Oil: 1 tbsp
Oil: for deep frying
Method:
1. For masala stuffing, heat 1 tbsp oil in a kadai. Add mashed potatoes, haldi powder, salt, red chili                 powder, garam masla,  jeera, amchoor powder, coriander powder and mix well. Cook on medium                 flame for five minutes.
2.  Add chopped coriander and mix well. Keep it aside.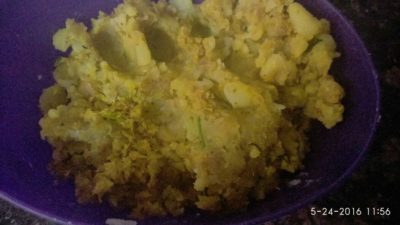 3. For making outer covering, heat 2 cups water in a pan. Add salt, ajwain, 1 tbsp oil and let them boil.          Add sooji gradually  and cook on medium flame till it becomes thick. Let it cool a little bit so that it            can be taken in hands.
4.  Take warm sooji dough and divide them in equal portions,  make balls from all portions. Then flatten each ball and fill aloo stuffing in them and seal edges tightly with your hands.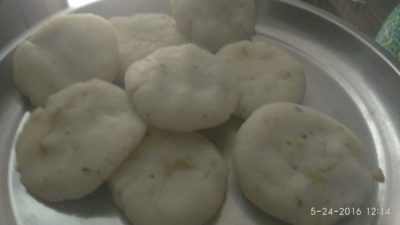 5. Heat sufficient oil in a kadai and deep fry kachoris till light brown and crispy.
6.  Serve them with imli chutney or dhania pudina chutney.


Like Delicious.Desi on Facebook.