Vegetarian momos is a popular Tibetan recipe.Traditionally they were made of minced meat but now a days momos have filling of vegetables,cheese,etc.They have now become favorite street food of North India .Normally Momos had three varieties :steamed,fried and pan fried.Steamed moms consists of minimum oil so they are very popular.This is the first time that i had tried momos.Its really delicious .I am going to share recipe with you.
Servings :10-12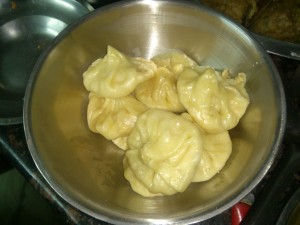 Ingredients:
For dough
Maida or all purpose flour:1 cup
Oil:1/2tsp
Salt:1/4tsp
Water:as needed
For stuffing:
Chopped cabbage:1/4 cup
Chopped carrots:1/4 cup
Garlic:1/2tsp chopped
Ginger:1/2tspchopped
Capsicum:1/4 cup finely chopped
Green chili:1 finely chopped
Spring onions:4 bulbs chopped
Salt:to taste
Soya sauce:1tbsp
Black pepper:1/4tsp
Red chilli powder:1/4tsp
Oil:2tsp
Vinegar:1/4tsp
Method:
1.Take maida,salt,oil in a bowl.Add water and knead a firm dough.Keep it aside for half an hour.
2.Heat oil in pan.Add ginger ,garlic,onions and saute for a minute.Now add chopped cabbage,carrots,capsicum,spring onions,green chili.
3.Mix soya sauce,salt black pepper,red chili powder,vinegar.Mix it well for 3-4 minutes.
4.Divide dough into 12 balls.
5.Roll each ball into thin circle of 3-4 inch diameter.
6.Place vegetable stuffing in between .Start folding and forming pleats. In end join all the pleats to the center.
7.Heat water in steamer or idli maker.Put all momos in greased steamer in such a way so that they dont touch each other.
8.Steam momos for about ten minutes.When momos have transparent look and they did'nt feel sticky,it means they are ready.
9.Serve momos with chilli garlic sauce or soya sauce.


Like Delicious.Desi on Facebook.