Soft and delicious cake with flavors of cinnamon or dalchini and apple. I am thinking about preparing this cake since long and finally today i made this cake with very nice aroma.
Serving: 5-6
Ingredients:
Refined flour or maida: 200 gm
Cinnamon powder: 2 tsp
Apples: 3 chopped
Eggs: 5
Sugar: 250 gm
Melted unsalted butter: 275 gm
Baking soda: 1 tsp
Bread crumbs: 5 tbsp
Method:
1. In a bowl break eggs. Add 200 gm sugar. Beat eggs and sugar till it becomes thick.
2. Sift maida and baking powder and add it to egg batter and mix.
3. Add unsalted butter and mix well. Keep this cake batter aside.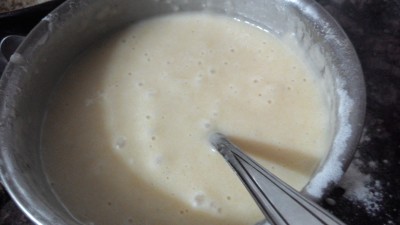 4. Preheat oven to 180 degree celsius. Grease a cake tin and spread bread crumbs in it. In another bowl  add remaining 50 gm sugar, cinnamon or dalchini powder, chopped apples and mix well.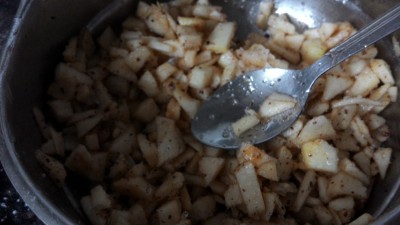 5.Grease a cake tin and spread bread crumbs in it.
Put cake batter in greased tin. Arrange apple mix on cake batter.
6. Put cake tin in preheated oven and bake the cake for about 40 minutes.
7. Check the cake by inserting a tooth pick in it. If it comes out clean then cake is ready. Enjoy this yummy delicious cake.


Like Delicious.Desi on Facebook.