Potato is favorite of all. In my family too everyone loves potato, whether in form of vegetable or parathas or aloo tikki and many more things. So first time i tried to mix potatoes with mozzarella cheese and bake them and result is woww……so cheesy, yummy. This is an easy recipe and does not require much time.
Ingredients:
Potato: 3 large
Butter: 2 tbsp
Salt: to taste
Black pepper powder: 1/2 tsp
Oregano: 1/2 tbsp
Mozzarella cheese: 1/4 cup grated
Oil: 1 tbsp
Method:
1. Wash and peel potatoes. Slice potatoes and dip them in water. Add 1/2 tsp salt in water.
2. In the meanwhile preheat oven to 180 degree celsius. Also grease muffin tray with little oil.
3. Now take out potato slices. Add salt, black pepper powder, oregano and mix well. Add butter and oil and mix well again.
4. Now put potato slices in muffin tray. Place 3 potato slices in each section then put a spoon full of grated mozzarella cheese. Again put 3 potato slices and on the top put mozzarella cheese. Sprinkle a little black pepper again on top of each section.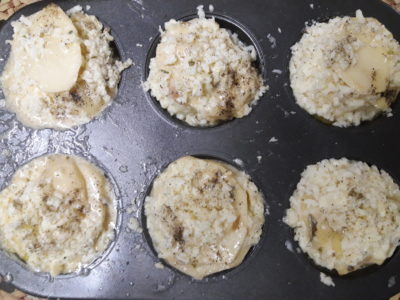 5. Now place this muffin tray in preheated oven and bake for 25- 30 minutes.
6. Arrange the in serving tray and serve with mayonnaise.


Like Delicious.Desi on Facebook.