Cheesy vegetable buns……Awwwww……they are so yummy and so cheesy. Here is my new dish vegetable fried buns with loads of cheese and vegetables in it. I am presenting to you all vegetable filled and cheese laden buns which are  deep fried. Try out and you will love the taste
Servings: 10- 12
Ingredients:
For stuffing:
Onions: 2 chopped
Capsicum: 2 chopped
Tomato: 1 chopped
French beans: 12-15 chopped
Corn: 1/4 cup boiled
Peas: 1/4 cup boiled
Ginger-garlic paste: 2 tbsp
Spring onions: 2-3
Salt: to taste
Red chili powder: 1/4 tsp
Soya sauce: 2 tbsp
Tomato ketchup: 2 tbsp
Mozzarella cheese: 1 /4 cup grated
Cheese slices: 4-5
For dough:
Maida or all purpose flour: 2 cup
Salt: 1 tbsp
Sugar: 2 tbsp
Oil: 2-3 tbsp
Yeast: 1 tbsp
Warm water: as needed
Other ingredients:
Oil: for deep frying
Bread crumbs: 1/2 cup
Milk: 1/4 cup
Method:
1. For making dough, heat 1/4 cup of warm water in a bowl. Add yeast and 1 tsp sugar to it. Let it rest for 10 minutes.
2. Mix maida, salt and oil in another mixing bowl. Mix well.
3. Add yeast mixture to it. Knead a dough till it becomes smooth.
4. Grease a bowl and put this dough in bowl and set aside for two hours.
5. Now we will prepare stuffing. Heat oil in a pan. Add ginger-garlic paste and saute.
6. Add all veggies and cook on medium heat for 4-5 minutes.
7. Add salt, red chili powder, soya sauce, tomato ketchup and cook for 2 more minutes. Switch off the flame.
8. Now punch out the air from risen dough and knead it again. Divide dough in equal portions.
9. Take one ball. Flatten it a little and put one spoon full stuffing in it. Also add 1 spoon mozzarella cheese and half cheese slice. Seal the edges.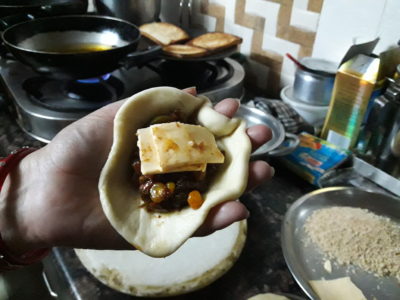 10. Now dip this stuffed ball in milk and roll it in bread crumbs.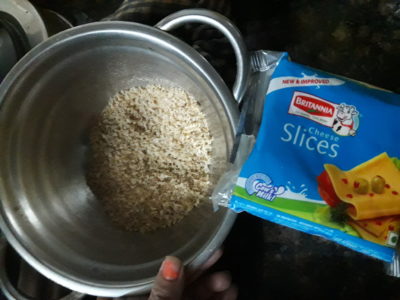 11. Heat sufficient oil in a kadai. Put this ball in hot oil and cook on low to medium flame till it becomes golden brown in color.
12. Put it on absorbent paper so that excess oil can be removed.
13. Serve this with tomato ketchup and mayonnaise and enjoy yummy cheese bites.


Like Delicious.Desi on Facebook.