Cheese corn grilled toast is a good option for breakfast and also a good tea time snack which helps to fulfill 'shaam wali choti bhukh'. Lots of veggies were tossed with sauces and then spread over bread slices and then grilled in oven.
Servings: 4
Ingredients:
Onion: 1 chopped
Capsicum: 1 chopped
Corn kernels: 1/2 cup boiled
Cheese: 1/2 cup grated
Paneer: 1/2 cup
Mushroom chopped: 1/4 cup
Green chili: 1 chopped
Salt: to taste
Black pepper powder: 1/4 tsp
Tomato ketchup: 1 tbsp
Soya sauce:  1/2 tbsp
Brown bread slices:  8
Oregano: 1/2 tsp
Butter: 2-3 tbsp
Oil: 2 tbsp
Method:
1. Heat oil in a pan. Add chopped onion,  Chopped mushrrom, chopped capsicum and saute on medium flame for 2-3 minutes.
2. Add corn kernels, paneer, and cook for 2 more minutes.
3. Add salt, black pepper powder, oregano, tomato ketchup, soya sauce and mix them well. Add half of grated cheese and mix again .
4. Now preheat oven to 180 degree celsius.
5.  Spread butter over bread slices.
6. Spread the mixture which we had prepared earlier. Also spread grated cheese over it.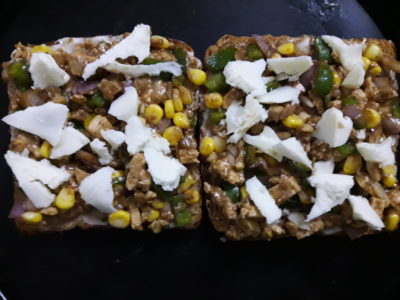 7. Now put bread slices in oven and grill them for 5-6 minutes on 180 degree temperature.
8.  Slice them Serve them with ketchup or cheese dip.


Like Delicious.Desi on Facebook.