Fried ice cream…………..how can ice cream be fried. This was my first reaction when i heard about fried ice cream. But when i studied about it on internet and other sources i got to know that it is possible. Fried ice cream is a Mexican dessert. It has crispy hot covering from outside and has cool ice cream inside. It tastes yummy. Now when i told anyone that i had made fried ice cream their reaction was ………hmmm…….ice cream and fried….how is it possible. And this is my recipe for all of them.
Servings: 4
Ingredients:
Cake slices: 4(or you can use bread)
Vanilla ice cream: 1/2 liter
Cornflour: 3-4 tbsp
Cornflakes: 1/2 cup
Milk: 1/4 cup
Chocolate syrup: 1/4 cup
Oil: for deep frying
Method:
1. Scoop ice cream and put these scoops in freezer for 3-4 hours so that they become completely frozen.
2. Now mix cornflour and milk and form a batter. Make coarsely crushed mixture of cornflakes.
3. Now take out ice cream scoops from freezer and take thin slice of bread or cake and cover ice cream scoop with  them evenly. Press with both your palms and bread will stick to ice cream scoop.
4. Now dip these ice cream balls in cornflour batter and then roll over crushed cornflakes.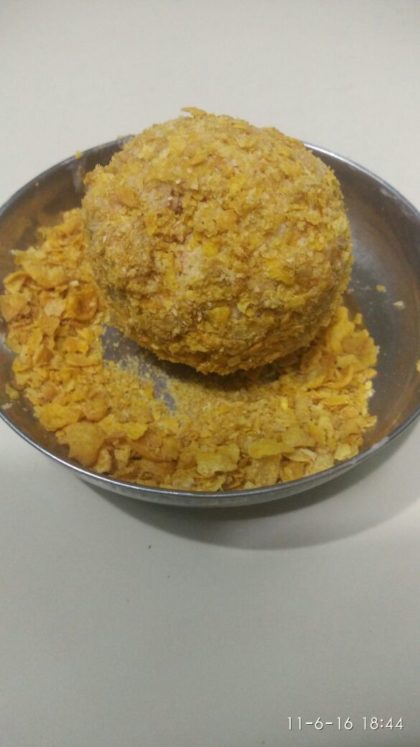 5. Put these ice cream scoops in feezer again for 3-4 hours.
6. When you want to serve take out these ice cream balls and fry them in hot oil for only few seconds.(first heat the oil and then take out ice cream ball from freezer. Also fry one ball at a time.)
7. Spread chocolate sauce over it and then serve immediately.


Like Delicious.Desi on Facebook.