We all know that breakfast is most important meal of the day.Eating an omelette of eggs ,onions and cheese provides proteins,calcium,Vitamin B-12.It helps to maintain healthy muscles and nourishes skin and hair.So here's a quick nutritional recipe:Cheese Omelette
Servings :1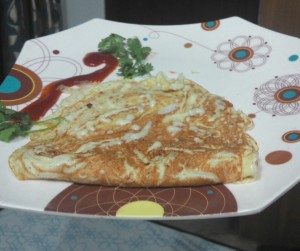 Ingredients:
Eggs:2
Onions:1 (finely chopped)
Cheese:1/4 cup
 Coriander leaves:finely chopped
Green chilies(finely chopped)
Butter or oil:3 tbsp
Salt:to taste
Black pepper:1tsp
 Method
1.  Beat the eggs and add chopped onions and coriander .
2.Heat butter in pan.Add  egg mixture and rotate so that it spreads evenly.
3.When underside is half done,spread cheese over it.Cook for a minute until cheese starts to melt.
4.Fold the Omelette and place it on serving dish.Serve hot.


Like Delicious.Desi on Facebook.