Daal baati is a popular dish from Rajasthan. Rajasthani cusine is incomplete without mentioning  dal baati. Daal is prepared from dhuli moong dal(split green gram skinless), dhuli urad dal(split black gram skinless), chana dal(split bengal gram). Baatis are hard bread rolls made from wheat flour.
Servings: 4
Ingredients:
For daal:
Dhuli moong dal: 1/4 cup
Chana dal: 3/4 cup
Dhuli urad dal: 1/4 cup
Salt: to taste
Red chili powder: 1/2 tsp
Chopped ginger: 1 tbsp
Haldi powder: 1/2 tsp
Asafoetida or heeng: a pinch
Tomato: 2-3
Cumin seeds or jeera: 1/2 tsp
Jeera powder: 1/2 tsp
Cloves: 2
Coriander powder: 1/2 tsp
Garam masala: 1/2 tsp
Green chili: 1 chopped
Ghee: 2 tbsp
Chopped coriander: 1 tbsp
For baatis:
Wheat flour: 1 cup
Salt: 1/2 tsp
Sooji: 1/4 cup
Carom seeds or ajwain: 1 tsp
Baking powder: 1/4 tsp
Desi ghee: for soaking baatis+ in dough or moyan
Method:
For daal:
1.  Wash and soak all 3 dals in water for 2 hrs. Drain the water and pressure cook dal by adding water (double the amount of dals) and salt. Pressure cook for 10 minutes after 1st whistle on low flame.
2. Heat oil in a kadai. Add cumin seeds, heeng and cloves. Add grated ginger and tomatoes. Cook on medium flame.
3. Add red chili powder, haldi powder, jeera powder, coriander powder and mix well. Cook tomatoes till oil starts leaving .
4. Put boiled dal in this masala mix and add garam masla. You can add more water if dal is too thick.
5. Add chopped coriander and our dal is ready.
For making baatis:
1. Add atta and sooji in a mixing bowl. Add ajwain, salt, baking powder, 1/4 cup ghee and knead it to a stiff, firm dough.
2. Divide dough in equal portions and form round balls.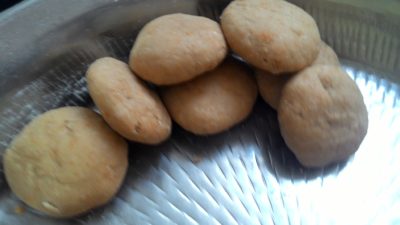 3. You can make baatis in 2-3 ways.
3 a). By putting baatis in gas tandoor for 15-20 minutes on low to medium flame.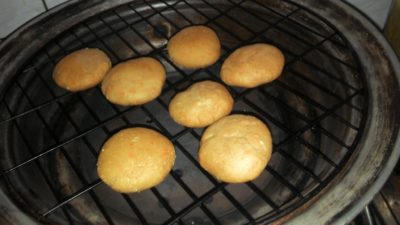 3 b). Preheat oven to 180 degree centigrade. Grease a baking dish and put baatis on it. Bake for 25- 30 minutes or till done.
3c ) Take a pan. Fill it half with water. Put baatis in boiling water for 15 minutes. Then put these baatis in tandoor for 10 more minutes or till they are done.
4. When baatis are done dip them in desi ghee and serve with dal and some more ghee.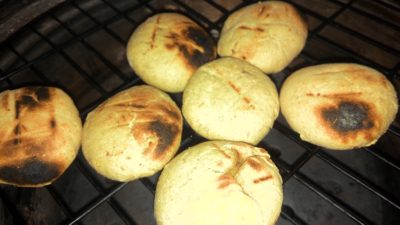 Like Delicious.Desi on Facebook.