I don't like winters very much. But the only thing which i like about winters is gajar ka halwa. Gajar ka halwa is rich Indian dessert made of carrots, ghee( use it abundance), sugar and milk. I also use to add khoya or mawa in it. This gajar ka halwa is related to North Indian cusine.
Serving:5-6
Ingredients:
Carrots: 10- 12 or about 1 kg
Milk: about 1/2 kg
Khoya: 100 gm
Sugar: 1/2 cup
Dy fruits(almonds. kaju, pistachios): 1/4 cup chopped
Ghee: 5 tbsp
Method:
1.Wash, rinse, peel and grate carrots.
2. Take a heavy bottom kadai, put carrots and milk in it.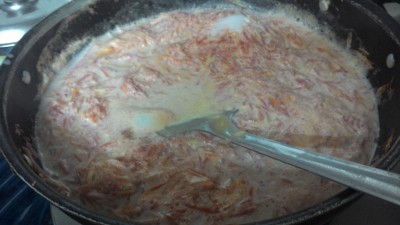 3. Bring milk and carrots to boil on medium flame. Let it cook for 15-20 minutes on low flame stirring in between.
4. When about 3/4 milk evaporates add khoya and cook for about 10 more minutes.
5. Add sugar and cook for 4-5 minutes.
6. Add dry fruits and mix well. Add ghee and cook for 5-6 minutes and keep stirring now and then to avoid sticking gajar halwa to pan or kadai.
7. Garnish with more dry fruits and serve hot. You can store this halwa for 3-4 days in freeze. When you want to serve microwave it or again put it in kadai and lightly cook on medium flame.


Like Delicious.Desi on Facebook.