We have so many options for breakfast in winters.One such healthy option as winter breakfast is Methi makai ki roti. Methi is good source of iron and vitamin A. Makkai atta and methi makes a good and healthy option for making rotis.
Serving: 4
Ingredients:
Makai atta: 3 cup
Methi: 250 gm
Salt: to taste
Red chilii powder: 1/2 tsp
Ajwain or carrom seeds: 1 tsp
Green chilli : 1 chopped
Ginger: 1 tsp grated
Ghee: for shallow frying rotis
Warm water: 2-3 cups
Method:
1. Chop, wash methi leaves.
2. Take makai atta in a mixing bowl. Add methi leaves, salt, red chili powder, ajwain, green chilli, ginger and mix well.
3. Add warm water and knead a soft dough.
4. Heat a tawa. Divide the dough into equal portions.
5. Take one portion and form a ball from it applying some loose atta on hands.
6. Cover worktop with loose atta and pat the ball with your fingertips and form a roti. You can also put this atta ball in between two sheets of plastic and can form roti with rolling pin.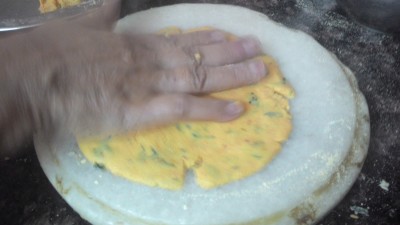 7. Put roti on tawa and cook from both sides applying ghee.
8. Put makai roti in plate and serve with butter or dahi.


Like Delicious.Desi on Facebook.