Gobhi ka paratha is another popular paratha variety from Punjab state of India. Gobhi or cauliflower stuffing is filled in dough and partahas are shallow fried. Here's the recipe of yummy parathas.
Servings: 4 parathas
Ingredients:
Gobhi or cauliflower:  1 cup grated finely
Ginger: 2 tbsp grated
Green chilli : 1 chopped finely
Coriander: 2 tbsp chopped
Salt: to taste
Red chilli powder: 1/4 tsp
Garam masala: 1/4 tsp
Jeera powder: 1/4 tsp
Ghee : for shallow frying
For dough:
Wheat flour:1 cup
Water:as required for making smooth dough
Method:
1. Grate cauliflower or gobhi finely otherwise parathas will crack while rolling.
2. Mix grated gobhi, ginger, green chilli, coriander and spices. Your stuffing is ready. You can also add chopped onions if you want. Mix well.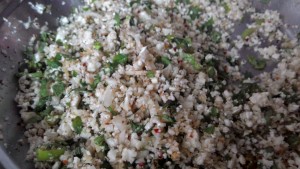 3. Make dough by mixing wheat flour and water.Make a dough like chapatis.Keep dough aside for half an hour to settle down at room temperature.
4.Divide dough into five equal portions and make smooth ball.
5.Roll the dough using rolling pin.Roll into 4 inch diameter.
6. Place 2 tbsp gobhi stuffing in between and wrap all sides. Again give shape of ball.
7.Dust some flour on roll and start rolling it .Roll into circle of diameter of 6 inch. Don't make them too thin.
8.Heat tawa and place rolled paratha on it.Flip it and cook other side as well.
9.Apply desi ghee on both sides and cook till both layers become golden brown.
10.Serve hot by placing butter over it.Have these delicious gobhi parathas with achaar or curd.


Like Delicious.Desi on Facebook.