Kulfi is popular Indian frozen dessert.It is more denser than ice creams.We have kulfis of many flavors such as kesar ,rose,pista kulfi.Here i am presenting Mango kulfi.
Servings:4
Ingredients:
Mango:1/2 cup pulp
Milk:1 litre
Cardamom powder:1/2tsp
Condensed milk or milkmaid:1/4 cup
Sugar:1/4 cup
Almonds:7-8
Pistachios:7-8
Method:
1.Boil milk in a heavy bottom pan on low flame.
2.Add milkmaid ,sugar and cardamom powder.Simmer it till it thickens.It will take about 45 -50 minutes.
3.Peel mangoes. Put it in a blender and make smooth pulp.
4. When milk gets cooled , add mango pulp to above mixture and add almonds and pistachios.
5.Cool the mixture at room temperature.Pour the mixture into icecream moulds6.Freeze in refrigerator for 5-6 hours.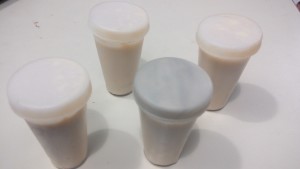 7.Unmould the kulfi moulds and enjoy this delicious kulfi.


Like Delicious.Desi on Facebook.