Another dish which we can have during navratras is sabudana paneer seekh kebab . These sabudana seekh kebab are made using very less oil. When you are not making them for navratras you can add onions, cheese also.
Serving: 4
Ingredient:
Sabudana: 1 cup
Potatoes: 4 medium sized boiled
Paneer: 100 gm
Peanuts: 50 gm crushed
Coriander: 2 tbsp chopped
Sendha namak: to taste
Red chili powder: 1/2 tsp
Green chili chopped: 1
Singhara atta: 2-3 tbsp
Oil: 3 tbsp
Method:
1. Wash sabudana 2-3 times. Sprinkle some water over it and keep it for half an hour. After half an hour sprinkle more water over it and keep it for another half an hour.
2. Now add mashed potatoes and crumbled paneer to soaked sabudana. Also add crushed peanuts, salt, red chili powder, coriander, green chili , singhara atta and mix it well.
3. Now spread the mixture on the skewers evenly.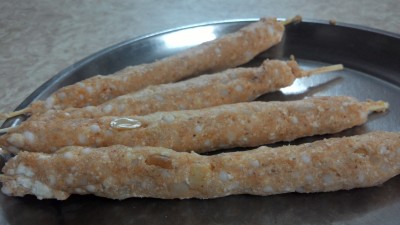 4. Apply little oil  on it and grill them in oven for 25-30 minutes.
5. Serve with dhania chutney.


Like Delicious.Desi on Facebook.