Chaat is my all time favorite. Raj kachori a popular chaat item which is crispy kachori from outside and has soft filling inside. Stuffing includes moong pakoris, boiled potatoes, boilled chana, sev, curd, chutneys etc.
Serving: 12-15
Ingredients:
Maida: 1 cup
Sooji: 1/4 cup
Baking powder: 1/4 tsp
Salt: to taste
For stuffing:
Moong dal pakoris
Boiled potatoes: 1-2
Boiled moong dal: 1/4 cup
Kabulichana: 1/4 cup boiled
Curd or dahi: 1 cup
Salt: to taste
Powdered sugar: 4 tbsp
Red chili powder: 1/2 tsp
Jeera powder: 1/2 tsp
Rock salt or kala namak: 1/2 tsp
Garam masala: 1/4 tsp
Imli chutney: 1/4 cup
Boondi: 1/2 cup
Pudina chutney: 1/4 cup
Sev or namkeen: 1/2 cup
Coriander: 2-3 tbsp chopped
Oil: for deep frying
Method:
1. Mix sooji, maida, salt and baking powder. Add water and knead a stiff dough like we knead for pooris. Punch and press and made it soft.
2. Take dough and divide it into equal balls. Take one ball and roll it into diameter of 3-4 inches.
3. Heat oil in a kadai. Add one poori and deep fry them till golden brown from both sides. Keep them aside.
4. Beat curd. Add powdered sugar, salt, red chili powder, jeera powder, rock salt and mix well.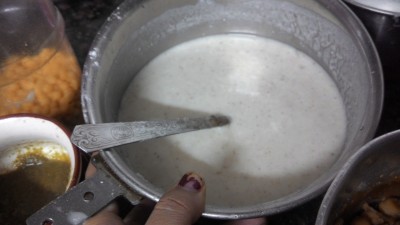 5. When you want to serve then take one kachori and made a hole in centre.
6. Put moong dal pakoris first. Then boiled moong, kabulichana, boiled potatoes.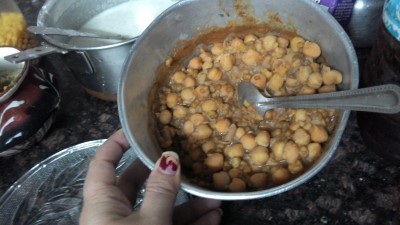 7. Then add pudina and imli chutney. Add dahi over it.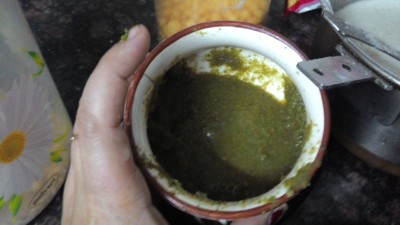 8. Finally add boondi and sev. Sprinkle red chilli powder and jeera powder.
9. Garnish with coriander and serve.


Like Delicious.Desi on Facebook.