Schezwan fried rice is an Indo chinese recipe. I love spicy Chinese schezwan rice. It is easy to made. Just made schezwan sauce in advance and use when you want to eat Schezwan fried rice or schezwan noodles.
Servings:3-4
Ingredients:
Rice : 1 cup boiled
schezwan sauce: 2 tbsp
Capsicum: 2 chopped
Onion: 1 chopped
Spring onion: 1 chopped
Carrot: 1 chopped
French beans: 8-10 chopped
Garlic: 1 tbsp chopped
Vinegar: 1 tbsp
Salt: to taste
Black pepper powder: 1/4 tsp
Oil: 2 tbsp
Method:
1. Heat oil in kadai. Add 2 tbsp ginger and saute.
2. Add onion, spring onion and saute for a minute. Add capsicum, carrots, french beans and cook on high heat for 2-3 minutes stirring continuously.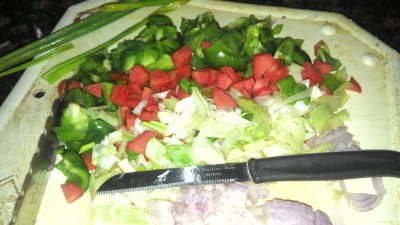 3. Keep on stirring till veggies become light brown. Add schezwan sauce and cook.
4. Add rice in parts. Mix the rice with veggies.
5. Add salt, black pepper, and vinegar. Mix well with rice and veggies.
6. Garnish with spring onion greens and serve.


Like Delicious.Desi on Facebook.