Stuffed capsicum or bharwan shimla mirch is stuffed with boiled potatoes. You can even use paneer as stuffing. I am using potatoes here. Boiled potatoes are cooked a little on medium flame as it will enhance the flavor.
Serving: 4
Ingredients:
Capsicum or shimla mirch: 4
Boiled potatoes: 2-3
Salt: to taste
Cashewnuts or kaju: 6-7 chopped
Red chili powder: 1/4 tsp
Jeera powder: 1/4 tsp
Onion: 1 finely chopped
Green chili: 1 chopped
Turmeric powder or haldi powder: 1/4 tsp
Amchoor powder: 1/2 tsp
Garam masala: 1/4 tsp
Oil: 1 tbsp for cooking potatoes
Oil: 2 tbsp for cooking stuffed capsicum
Method:
1. Slice top of capsicums and remove the seeds.
2. Boil potatoes, peel and mash them. Chop onions.
3. Heat oil in a kadai and add onion. Saute for a minute. Add mashed potatoes, kaju and all spices and cook for 3-4 minutes. Switch off the flame.
4. Stuff the capsicum with these potatoes filling.
5. Heat oil in a kadai and put these capsicum. Cover the pan and check after 4-5 minutes and keep on changing the sides of capsicum.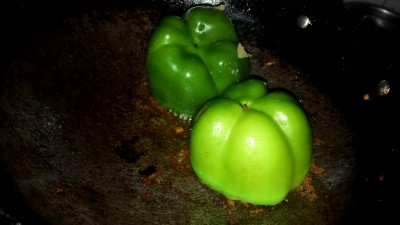 6. Cook till capsicum become golden and wrinkled.


Like Delicious.Desi on Facebook.