Vada pav is from Maharashtra state of India. Vada pav was first considered as common man's dish but now available in restaurant and hotels throughout India. It is street food which includes spicy potato patty  or we call it vada which is sandwiched in between pav.
Servings: 5-6 vada pav
Ingredients:
For Vada:
Potato: 5-6
Coriander: 2 tbsp
Garlic: 3-4 cloves chopped
Oil: 1 tbsp+for deep frying
Rai or mustard seeds: 1 tsp
Green chilli: 1 chopped
Salt: to taste
Curry leaves
Haldi: 1/4 tsp
Red chilli powder: 1/4 tsp
For besan batter:
Besan or gram flour: 1 cup
Sat: to taste
Heeng or asafoetida: a pinch
Red chili powder: 1/4 tsp
Water: as required
Other requirements:
Pav : 6
Green chutney: 3-4 tbsp
Imli chutney: 3-4 tbsp
Method:
1. Boil potatoes. Peel and mash them.
2. Heat oil in  a pan. Add curry leaves and methi seeds. When they starts to splutter add haldi, chopped garlic,green chili and saute for a minute.
3. Put this tempering in mashed potatoes. Also add coriander, red chili powder and salt. Mix well.
4. Make small balls from mashed potatoes.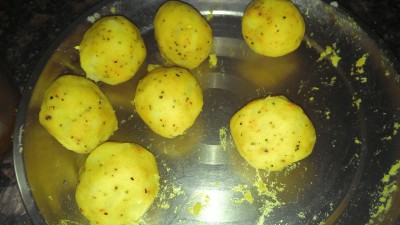 5. In a bowl put besan. Add salt, red chili powder, heeng . Add water and make a  batter. Batter should not be thick nor very thin.
6. Heat oil in a pan. Dip potato balls in besan batter and deep fry them till golden brown. Keep them on absorbent paper so that excess oil can be removed. Vadas are ready.
7. Take pav and slice it without cutting them into two parts.
8. Apply green chutney on one part and imli chutney on other.
9. Put vada in between. Serve it immediately or it will get soggy. Serve them with imli or green chutney.


Like Delicious.Desi on Facebook.