Vegeatble tikki burger is a combination of Indian tikki and western fast food.I am using vegeatble tikki made of potatoes,grated carrots,chopped capsicum,peas. To make it more healthier you can use veggies of your choice.For toppings we can use tomatoes,onions ,cheese slices,cucumber slices.
Servings:Make two vegetable tikki burgers.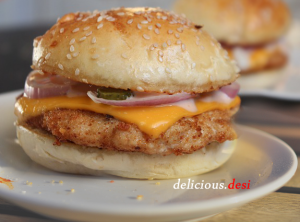 Ingredients:
Potatoes:2 medium sized boiled
Grated carrots:1
Chopped capsicum:1
Peas boiled:1/4 cup
Cornflour:1tsp
Salt :to taste
Black pepper:1/4tsp
Tomato :1 cut into round slices
Onions:1 cut into round slices
Cucumber:3-4 slices
Cheese slices:2
Burger buns:2
Tomato ketchup:2tsp
Butter:to fry buns lightly.
Mayonnaise:2tsp
Method:
1.Mix all the vegetables in a bowl.Add salt and black pepper.Add cornflour.
2.Take mixture and give them shape of round patties.Shallow fry them till they become golden brown and crisp.
3.Now cut burger buns into two halves.Heat butter in a pan and shallow fry burger buns.
4.Take bottom part of bun and apply tomato ketchup on it.Put cucumber pieces first.
5.Put tikki on it and then spread mayonnaise over it . Place  tomato slices,onion rings and again cucumber rings.
6.Finally place cheese slice and cover it with other side of bun.Spread tomato ketchup on other bun piece also if you want to.
7.Vegeatble tikki burger is ready.


Like Delicious.Desi on Facebook.